RALEIGH – There had been rumors that both Robin Hayes and Dallas Woodhouse, NCGOP chairman and executive director, respectively, were fishing for some RNC gigs to escape the state party after a couple disappointing election cycles. Some conservatives were hopeful that was the case, being very willing to inject some new leadership into a woefully misled political party.
Alas, it appears Woodhouse and Hayes will remain for another two years. We'd be remiss to not include some color commentary for the Daily Haymker, who always hits this topic with gusto.
"I guess the RNC wasn't willing to take him off our hands for a do-nothing convention prep job.  
Nobody — registered Republican — with any common sense or significant number of IQ points seriously thinks 2018 was a great election year for the NCGOP.  There are overwhelming calls from all four corners of the state — and the party — seeking the heads of Dallas and his Grandpa.
Wake County lost ALL of their Republican representation — except for ONE state senator.  Mecklenburg County — which will host the 2020 RNC — lost ALL of their GOP representation except for ONE state senator.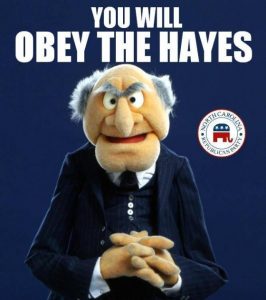 On November 5,  the NCGOP had supermajorities in both legislative chambers.  When the new legislature is sworn-in in January, they will be reduced to simple majorities unable to override Roy Cooper]s vetoes.
2018 — just like 2016 — saw the NCGOP lose a very winnable state Supreme Court seat.  In 2018, the party also lost every other statewide judicial election. (And let's not forget a very winnable 2016 gubernatorial race.)
Hayes and his grandson are trying hard to surrender the Ninth Congressional District (which has been GOP-held since 1963) to the Democrats.  When he DOES step out to speak publicly, Hayes usually ends up shoving his big foot in his big mouth and embarrassing the party.  "
For more reasons the NCGOP should not rehire Hayes and Woodhouse, click here.
Have a hot tip for First In Freedom Daily?
Got a hot news tip for us? Photos or video of a breaking story? Send your tips, photos and videos to tips@firstinfreedomdaily.com. All hot tips are immediately forwarded to FIFD Staff.
Have something to say? Send your own guest column or original reporting to submissions@firstinfreedomdaily.com.